Birth Flower Meaning
Like birthstones, every month has a specific birth flower and each one upholds a specific meaning. Like people, every birth flower is unique, loaded with significance and fabulous stories. So, if you're looking for celebrating one's birthday in q unique way or would like to give a personal touch to a floral arrangement for any event, GiftaLove's Birth Flower Guide will help you find which flower is suitable for them.
Flower Types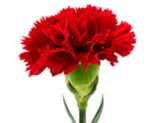 January- Carnations
A portrayal of pride, beauty, gratitude and admiration, distinction, fascination, woman and divine love, carnations are the flowers associated with birth in January. This January flower features multilayered, feathery soft petals. Send someone January birthday flowers- carnations to wish wholeheartedly.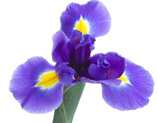 February- Iris
Long been linked with the twenty-fifth wedding anniversary, the three upright petals of iris stand for loyalty, wisdom and valor. They also stand for hope, valued friendship, complements and passion. The February birthflower is found in yellow, blue, purple and white colors. Order iris of your choice to wish a loved one born in February.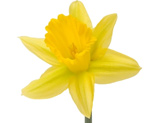 March- Daffodil
When snow melts down and the audacious daffodil arrives, it seems as if the sun reenters the world from the ground. Standing for rebirth and symbolizing new beginnings, specifically when given in an abundant bouquet, daffodils embody happiness and joy.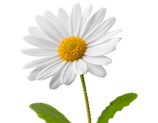 April- Daisy
Innocence, purity, love and loyalty is what best personified by daisy flower. The irresistible daisy holds the power to bring a pleasant smile to all. Radiating out from the classic yellow core of daisy, the fragile white petals seem like the feathers of a peace dove. The people born in April bask in playfulness of the bloom that symbolizes youth and peace. Send these cheery flowers to those born in April adding to their happy-go-lucky attitude.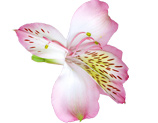 May- Lily
Being exotic blooms, lily blooms are always dramatic. This bloom was so venerated by the ancient Greeks that they supposed the bloom sprouted from the milk of Hera- the queen of gods. Long associated with Virgin Mary, the white Madonna lily stands for virtue, while the Lily of the Valley symbolizes humility and sweetness. This May birth flower conveys purity of heart, honor and majesty.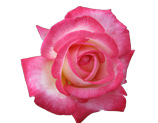 June- Rose
Love, romance, passion, beauty and perfection, the rose is symbolic to all these feelings. Rose flower is rich with meaning and history. The deep colors and densely layered petals of roses give the bloom an intense yet original beauty. Besides conveying love, the bloom also stands for secrecy. Those born in the month of June have the delight of being portrayed by this amazing birth flower. Send a fresh rose bunch or bouquet to wish him/her born in June a happy birthday.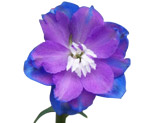 July- Delphinium
Delphinium is named after its lush, dolphin-shaped looks. The bloom is also known as larkspur that stands for an open heart and passionate attachment. Also personifying a feeling of buoyancy & cheerfulness, the gentle colors and mind soothing fragrance of this summer birth flower endow it a refreshing and unique natural exquisiteness.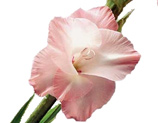 August- Gladiolus
The August birth flower signifies strength & moral integrity. The name of this flower came from the Latin word for sword "gladius". While the sword-shaped stems of the bloom mean Roman gladiators, the romantic blooms are capable of piercing a heart with their lush exquisiteness.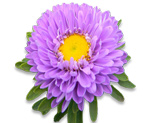 September- Aster
With their lush surface, wildflower beauty and rich hues, asters have long been associated with magical powers. During old times, it was said that when the leaves of aster burned, the perfume of the bloom could ward off evil. At present, this September birth flower is famous as a amulet of love & an enduring representation of sophistication.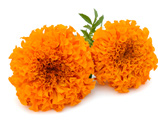 October- Marigold
With their lush autumn hues, marigolds are exemplary October birth flower. Marigold was called Mary's Gold by early Christians, and put it by the statues of the Virgin Mary. Dazzling and bright, with late-harvest warmth & a wide-opened bloom, the flower stands for affection and grace.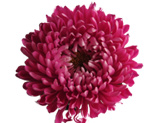 November- Chrysanthemum
Chrysanthemum symbolizing sun has many noble positions in prehistoric culture. The flower is celebrated as the bloom of kings & queens. At some part of the world, the flower is symbolic to enlightenment. The dense blooms of the chrysanthemum are combined together. This wonderful bloom stands for happiness, wisdom, and health.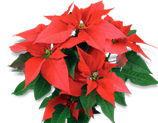 December- Poinsettia
Also called the Christmas flower, the magical bloom offers lush, vibrant and cheery colors in the middle of the winter. The legend has it that the bloom began as a humble weed. When a little girl put weeds on the altar of a church, the weed turned into dazzling red blooms. Embodying good cheer and merriment, poinsettia, the December birth flower is a suitable tribute to all those born in December.
Payment Methods:
Winter Sale 2019! Flat 10% Off!! Use Code : WIN10